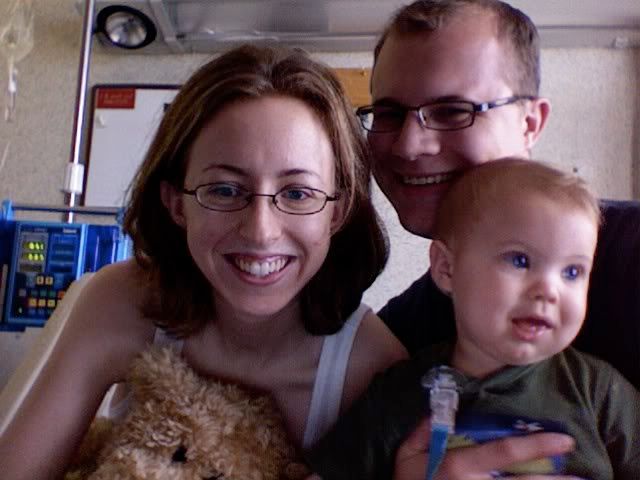 I wholly believe my journey through leukemia began from the foundations of the earth. The Lord has had this fully written in His plan for my life. Though we will never know the exact moment a single cell of my DNA acquired a problem, the doctors feel my body has been under attack for months. As I look back, I see the many ways God has been preparing us for this -- He has truly gone before, and for that I must be grateful. Our darling baby boy, Gary Lee, was born November 29, 2005. All babies are a miracle, but I have since been told that our baby is a special miracle. He shouldn't be here, and had he made it into this world, I shouldn't have survived birth. I am so thankful for him! His smile and bright blue eyes have become one of the greatest blessings in my life. Following his birth, I had the typical run-down feeling for several weeks. My white blood count had been up at the time, and I also had a low iron count, but we blamed the white blood count on the trauma from birth (for those who don't know, we had a home birth and my labor progressed very slowly.) My oncologist said that it was quite appropriate at the time for us to think that was all the white blood count indicated. My iron count was back up in normal ranges by February, as I followed the steps my midwife had laid out for me when I was anemic during pregnancy. I am exceedingly grateful for the prenatal care I received from my midwife. I was able to develop so many healthy eating habits and learn more about my body. After about 6 weeks following his birth, I began to feel like I had some strength again. My husband had been feeling led for several months to put our house in Phoenix on the market to take advantage of the investment opportunities the booming housing market was providing. We took steps to sell the house and with the help of an excellent realtor, had an offer the day our home listed. We prayed about our next step, and both felt the Lord leading us back home (for me) to Missouri, as we would be able to eventually reinvest in real estate in Missouri rather than renting for an unknown length of time in Arizona. (The downside of the booming market there.) We loaded up our rental truck with the help of family and friends, and began the long drive late February 27th. My Grandpa graciously opened up his home to us to provide us a place to stay rent-free while we searched for a job & housing in Columbia, the city we had felt called to ever since we began considering relocation to Missouri. Since that time, the Lord provided the perfect job for my husband as an outside sales rep for TigerTech within the UM system. We located a house we both love outside of Columbia a few miles and decided on a one-year lease while we search for the place we want to spend the next several years, even possibly build.
With all changes comes the struggle of discouragement, I suppose. There have been many times over the last few months that we have greatly missed our friends, family and church in Arizona. Plus the more insignificant little things, such as mountain views, beautiful spring evenings, and the great malls! My discouragement grew when I discovered the cute little house we had leased for a year had a serious insect infestation, and consequently, a spider bit me sometime around my birthday (June 1st). I first noticed a red spot on my leg on the 4th, and it became apparent that it was most likely a brown recluse bite so I visited the local Urgent Care on the 6th. They sent me home with an antibiotic that I finished within the appointed 10 days, and the bite slowly, yet painfully, began the healing process. As days went by I became more and more discouraged, feeling unable to cope, fearful of things I used to enjoy, such as getting together with friends or even going out to church. Even a trip to Wal-Mart became a massive undertaking that almost seemed too much to bear, and if possible, I would just ask Brandon to take care of errands on his way home from work. I began feeling sick to my stomach all of the time, and my appetite was off. Ever since our move I had struggled with things like hair loss, canker sores in my mouth that took weeks to heal, viruses that we shared (consequences of moving to a new area) that my husband would be over in a day and I'd be fighting for a week. I always had something to blame it on, though, mostly hormones, since that's what everything is blamed on after you have baby and while you're still nursing. A few weeks ago I noticed Gary began waking up through the night to eat every 3-4 hours, something he had never done, and I felt that my milk supply was dropping and wondered if I may need to wean him or at least supplement with formula. I tried to eat and drink as much as possible, but I just felt like I couldn't keep up. I lost weight. My 5'9" lightweight frame has never been much above 112 pounds, but I soon found that I was down to 105, a significant weight loss for me. My size 2 clothing began to hang off of me, and I just thought I needed to start eating more and fought again with my lack of appetite. After I finished the antibiotic for my spider bite, I began to notice a lot of bruising, mostly on my legs. At first I thought I was just being clumsy. I love playing with Gary and often crawl around on the floor with him, and through the moving in, cleaning and unpacking process, figured I'd just banged myself up a little more than normal. I joked with Brandon that I must be the clumsiest person alive or have cancer or something. During the last week of June we were blessed with overnight guests for an evening, and I was unusually tired during their visit. A few days before I had finally opened up to my mom about how I had been feeling, and that I felt I may have post-partum depression, though I had the "inability to cope" feeling far more than depression. I told her I was planning to visit the doctor sometime soon, but due to Brandon's job and lack of sick leave currently, decided to put it off until July 17th, his next flex day (he works a lot of weekends currently). Mom offered to come up in the meantime and help me with Gary so I could go earlier, and I said I might. I don't like going to the doctor, and was beginning to just feel like some kind of hypochondriac and worried that they would all just think I was crazy and give me a pill to fix my problems. My husband had been asking me to schedule an appointment for sometime at this point. The bruising continued to worsen. I decided our new countertop stools were the most uncomfortable things in the world, not realizing that the pressure of sitting on them had left giant bruises on the back of my legs. I'm not sure when I first noticed the petechiae. It sort of looks like a rash, or tiny little broken capillaries. I noted on my blog that I had noticed them when I was first bitten, around the bite location, which I thought was totally normal. By June 30th, I had them on my upper arms, chest, legs, tops of my feet, pretty much a little everywhere. I called a friend of mine that day and opened up to her about how I'd been feeling, and she said I needed to go see a doctor about a possible thyroid problem. That seemed a more legitimate reason to see one than just for "I don't feel good and I'm scared to leave the house" so I decided I'd have my mom come up the next week and help me with a doctor visit. In the meantime, my husband was on a two-day business trip, and I called him complaining of more bruises and the petechiae rash, which was quickly worsening. I'd looked it up on WebMD and discovered a link between the petechiae and brown recluse bites, and it said in rare occasions it could cause hemolytic anemia. Anemia! There, that's it, I thought. I'd been anemic during pregnancy, and I remembered the wiped out feeling and even a tendency to bruise easily. Brandon told me to get into the ER that night, but I didn't want to call my mom and ruin her already busy weekend, so I said I'd just go to the doctor as early in the week as possibly. He reluctantly said o.k. When he got home from Kansas City the following day (July 1st), he took one look at me and said he was taking me in. I argued with him, and asked if he would just call the nurse line through the local doctor's office. My experience at Urgent Care for the initial bite was lacking in my opinion, and I didn't want to spend another copay being told it's just the bite and here, take this for ten more days. I'd rather just see a regular doctor the following week, someone I could also talk to about my thyroid.
The nurse line ended up transferring me to the head nurse in some department at the hospital. She said my symptoms didn't sound like an ER visit, but that I needed to go to Urgent Care that night, because something wasn't right, and it could be a delayed reaction to the medicine I took after the bite. So we headed there immediately, and I saw a doctor around 6:30. He seemed mildly concerned, said he would draw blood to check my levels and also my thyroid, since I went ahead and mentioned it. Since it was so close to closing time he said they probably wouldn't call me with the results until Sunday morning, possibly Monday, but that he would follow-up with me Monday morning himself. The visit went much better -- he said the spider bite actually looked like it was healing quite nicely, and even sent me home with a prescription for Flonase to help with my allergies. We drove home, pulled out some leftovers to eat, just sat down to relax and the phone rang. Not only was it Urgent Care, it was the doctor himself, telling me the preliminary blood work came back and it did not look good at all. He said it could just be a reaction to the meds like the nurse had said earlier, but that I needed to go to ER immediately, was not to wait in the waiting room for any length of time. When I asked if I should take my toothbrush and plan to stay overnight he said, "Yes...you'll be there for a while." Little did I know.
After a thorough exam in ER, the doctor said I would need to have a blood transfusion and receive extra platelets. (For those who may be interested, initially my white blood cell count was pushing 40, my iron (hemoglobin) was 8.2, lower than it ever was during pregnancy/post labor, and platelet count was 24.) They weren't sure at the time what the problem was, but I could tell people were acting concerned. They admitted me and took me to a room on the 4th floor, which I believe is where all the general sickies are. My ER doctor spent some time with me and said he had called in a hematologist to look at my results. There hadn't been one in, but he made sure of it because he wanted to check all the bases. Sometime around 2 in the morning I saw the hematologist, and heard the word leukemia for the first time. He said it could possibly be a problem related to the bite/medication, but that he wanted me to be aware it could be something much worse, so I wouldn't be shocked if they came back with that diagnosis in the morning. A few hours later, the hematologist returned and said the ER doctor had placed me in his care, and they would be moving me to the 5th floor, which I later found out was the Ellis Fischel Oncology ward. Sunday morning four doctors, two medical students and two nurses filed into my room, and I knew. They were led by the head oncologist, Dr. Perry. He told me they had reviewed my blood smears and at the time they knew I had acute leukemia, but would not be sure of the type until they performed a bone marrow biopsy. Due to the holiday weekend, they would be unable to perform the biopsy until Monday afternoon, and I most likely would not know the preliminary results until Wednesday. I don't think there is a way to put in writing how such a diagnosis hits you, I was silent except for a few questions and tears while they were in the room, afterwards I broke down in my husband's arms and we both sobbed. Somewhere in the midst of all of the emotions I had an overwhelming sense of peace. Ever since the Urgent Care doctor had called, the song "Blessed be Your Name" had been running through my head. "Blessed be Your name, when the path's marked with suffering, though there's pain in the offering, blessed be Your name." I told Brandon, "The Lord gives, and the Lord taketh away, blessed be the name of the Lord." In the midst of everything known and yet unknown, all I could know is that He had me. I wasn't anywhere I wasn't supposed to be, this was the path I had been called to, and He wouldn't give me more than I could bear.