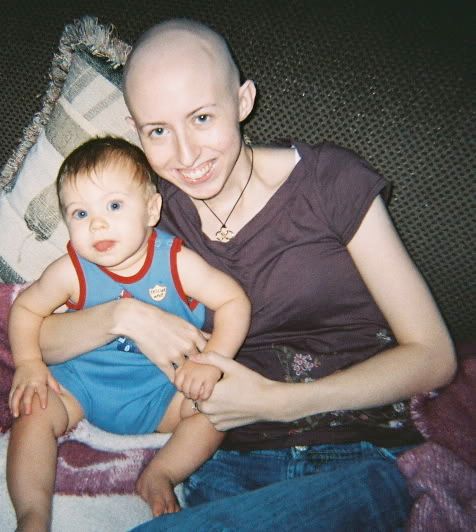 Yesterday was our trip to Barnes -- the Siteman Cancer Center, specifically. We got there about an hour early for labs and then met with Dr. Westervelt. The appointment was very informative. I was told that they do not actually know yet if I am in remission. The doctor implied that it is probably a safe assumption given that I am feeling better and my blood work looked pretty good yesterday, but he said they will need to do one more bone marrow biopsy to verify. Basically he said the previous biopsy was 100% clear meaning it showed nothing. They consider you to be in remission when they see normal cells and few or no leukemic cells. (I'm probably over-simplifying, but I believe that is basically correct.) He does not feel a bone marrow transplant (hereafter BMT) is necessary at this time. He said they have about a 30% chance of controlling the disease with chemo, and at this time that is a better outlook than doing a BMT. It is possible that we could look back down the road and say that a BMT now would have been the best route, but I feel God is sovereign over that as well, and trust the doctors He has given me and their opinions on the matter. I was somewhat discouraged to learn that I am facing more chemo. I admit I had gotten it into my head that I was done for now, and facing high dose Ara-C is really overwhelming. (Also known as Citaraban, which was one of the chemo drugs I had with induction therapy.) The same side effects apply, and my immune system will bottom out again, so the same possibilities for infection and just everything all over again basically. At this time I do not know the schedule for all of this. Dr. Westervelt said if I were having the treatment done at Barnes they would probably do outpatient -- six treatments every other day. He wasn't sure if the MU hospital would do the treatment inpatient or outpatient, so I have yet to learn more about that. I'm actually hoping it will be inpatient. If for no other reason than getting to see my nurses again, who feel like my long-lost friends! Dr. Westervelt will be calling Dr. Perry and giving him all of this information and we will proceed from there. I will probably contact Ellis Fischel on Monday or Tuesday to see about an appointment if I don't hear from them first. At this time I fully expect a biopsy again within a few weeks and for consolidation to start rather soon as well. But, I honestly don't know.
I think the hardest part about yesterday was just being faced with the solemnity of this disease. There is no happy, there is no cure. Even a BMT allows about a 25% relapse rate, and the potential for poor quality of life after a transplant causes us to wonder if it is truly worth it. Plus, there's a 25% mortality rate, so there are serious risks involved. For now, if I am not in remission we will work to get me into remission and then go straight to a transplant. Otherwise we will reserve a transplant for second remission if I were to relapse, which statistically is more likely than not. My parents were able to go to the appointment with us -- my aunt watched Gary in the waiting area for us. My dad commented something about it being nice that I was finally feeling well enough to be able to participate in the appointment, but at the same time it was like, wow, I'm finally feeling well enough to participate, meaning everything is really just starting to hit me, and I'm coming out of survival mode and realizing how majorly serious this all is. I am thankful that for now, most likely, I won't be facing a transplant. We're going to hold off testing my siblings for now as well. Each one has a 1 in 4 chance of being a match, so statistically I should have a sibling match. Thanks to an e-mail from a pathologist who has been reading my blog, we were able to clarify the information we had been giving regarding my cytogenics. As a result the doctor ordered an additional test (FLT-3) that can give us further information regarding my risk for relapse. We were very grateful for the information that allowed us to ask further questions and obtain more knowledge about my disease. The doctor also verified that I have subtype M4 with normal chromosomes, which we weren't sure about previously.
With each discouraging day it seems the Lord is great to bless us with encouragement. We found out yesterday that someone has arranged for a month of meals for us through Super Suppers. (www.supersuppers.com) One of the local employees, possibly even the owner I guess, just stopped by with a few entrees and an edible bouquet of chocolate covered strawberries. This is just one of the anonymous gifts we have received. Being unable to thank all of you personally, please know the extent of our gratitude. We have truly been overwhelmed by the generosity and love shown to us by so many, even so many of you that we have never met. We are also exceedingly grateful for the prayers offered on our behalf. My husband keeps reminding me not to get caught up in the statistics and lose hope, God is still in control, and He still knows my days. I want to be able to focus on His blessings, and the beauty of each new day, and not so much on the fact that my days on earth may be much more limited than I ever expected and that my plans are not His. I am so grateful for every minute I have with my husband and baby. Brandon is home this weekend, his first weekend off in about six weeks, and it is just wonderful to be together as a family. Gary is doing really well. I've seen him take a few steps now. His balance is improving everyday and he thinks he's big stuff when he stands up in the middle of the room and takes a step or two before plopping down. He crawls like lightning and gets into everything, so he keeps his momma busy. I love it though, and have been grateful for renewed energy everyday. It gives me hope that I can make it through this next round and hopefully be back to this point before the holidays. It is a long, hard journey. I think often of Pilgrim's Progress, and I told mom today that I dread walking back through the Valley of Despair, but there is a place of rest as well, and I know God goes with me through it all. I spent some time wallowing in misery the other night asking "Why me?" and Brandon replied, "Why not you?" The saying, "There, but for the grace of God, go I" came to mind. We talked for quite a while and just once again remembered that this is my path -- our path -- and that there is grace for it. I am thankful to the Lord for the gift of faith, because without it I don't think I would have made it this far.
I'll update again once I meet with my doctor here and have more information on the upcoming treatment. Once again, thank you all for your prayers and encouragement!