The 2nd DLI is finished. We infused 50 million cells this time. It was my first experience with frozen cells, and having heard much about the taste of the preservative used in the freezing process I wasn't quite sure what to expect. It's weird. That's all I can really say about it. They're keeping me in observation for about another half hour, and then we should be able to head home. It has been a long day.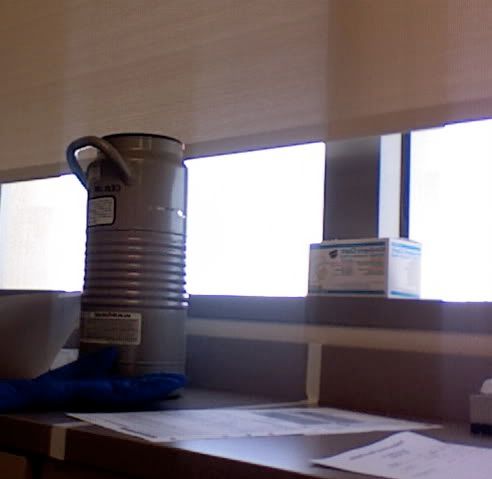 The cryo-lab storage container for the cells.
My next round of chemo begins June 4th and the next and final DLI is scheduled for June 12th, assuming I don't present with GVHD in the meantime. I spoke to the doctor today about the possibility of doing a second allogeneic stem cell transplant if the DLIs are unsuccessful, if we are able to keep my blasts low using Decitabine. He said he would think about it. It helps that I have so many siblings and matches readily available. I am beginning to realize I am a rarity at this point. The doctor said that relapse immediately after transplant usually has a very fast disease progression, thus the two month prognosis I was given. I think they are all surprised by where I'm at right now. I've never been the optomist so I am hesitant to get too emotionally involved in the fact that things seem to be going o.k. right now. I'm still very, very sick. I still require seemingly constant tranfusions...but I am alive. Nothing short of a miracle at this stage.
Thanks so much for all of your prayers.